TV reports, tests & reviews
On this page you will find television reports and test reports on the Masalo Cuff as well as newspaper articles and various tests & publications from the Internet.
Testimonials and reviews
from our customers can be found here:
English TV report about the Masalo Cuff
The German broadcasting channel "Welt der Wunder" (engl. "World full of miracles") and a highly respected sports physician from Switzerland tested our Masalo Cuff MED against epicondylitis.
In this clip the unique mechanism of action of the cuff is explained by the physician and the clinical picture of the tennis elbow and why our invention can help every sufferer is shown as well.
German broadcaster reviews Masalo Cuff
The largest German public broadcaster ARD with its regional television channel MDR reviewed the Masalo Cuff. In this TV-report the inventor of the cuff talks about the history and the development of Masalo and a German client, working as a mailwoman, speaks about how the Masalo Cuff saved her professional existence.
The report is in German, but easy to follow through.
Extreme sport thanks to the Masalo Cuff
Even extreme sports such as mountaineering etc. are possible with the Masalo Cuff without any problems. Garvin Außenegg proves this with an impressive video.
Without the cuffs, the pain from his golfer's arms was unbearable. After putting on the bandages, he went straight to the summit!
Enjoy the beauty of nature in fantastic images!
Please support the Youtube Channel of Dr. Garvin Aussenegg
"The Press"
(Austria, Print & Online)
Dec 7, 2017 issue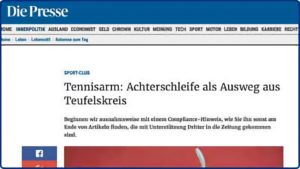 ORDER NOW!
Order 100% safe and convenient in our online store!
Free shipping within Germany!